Contact Us
View Our Gallery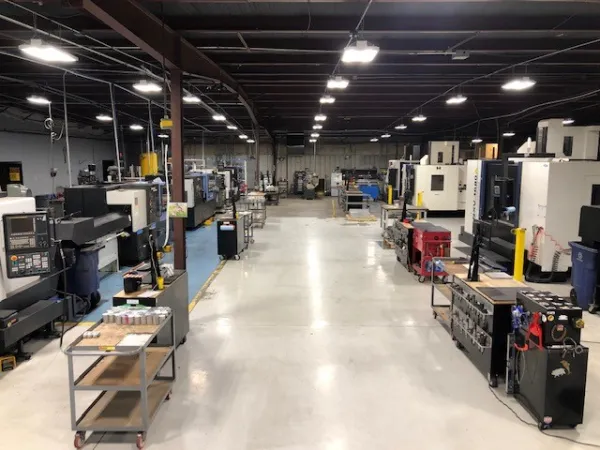 Precision Metal Machining Capabilities
Complete CNC Machining, Turning and Wire EDM Machining Services
Metal machining involves shaping and machining metal to form components for a specific application. RDL Machine is an ISO 9001 and AS9100D certified manufacturer of precision metal parts, components, and assemblies. We work with a variety of materials to form simple to complex components, and can meet quick turnaround times on orders of all sizes. We offer a wide range of machining services that include:
Request a quote online or Contact a machining specialist and we will find a solution to your machining needs.
In-House CNC Machining Services
3 and 4-Axis Milling
We use 3-axis and 4-axis CNC machining to form complex parts with tight tolerances ranging from +/- 0.001 inches to +/- 0.000 inches. We use advanced milling machines, including the NXV 1680A and Mazak NEXUS 510C for smooth, efficient operation.
5-Axis CNC Machining
Our late-model 5-axis machine allows us to create complicated parts by simultaneously moving cutting tools or parts along 5 axes. In addition to a X, Y, and Z axis, there is an A-axis (tilting table) and C-axis (table rotation) for improved maneuverability. With a single set-up; we can mill, bore and tap numerous complex shapes without changing set-ups, which provides faster production rates and decreased costs for the supplier and consumer.
CNC Turning
CNC turning utilizes computer-automated lathe machines for precise repeatability and is ideal for low to high volume runs. Each CNC turning process is tailored to meet the exact, unique requirements of our customers' projects. We are able to preserve tolerances up to +-0.0005 inches.
Wire EDM Machining
Wire EDM Machining (electrical discharge machining) is a metal fabrication process that uses electrical discharges or sparks to create the desired shape. Here at RDL machine, we provide these services to produce two-dimensional parts and components while holding profile tolerances up to +-0.0001".
EDM Sinker       
RDL Machine specializes in CNC Sinker Electrical Discharge Machining. Sinker EDM offers the ability to produce complex shapes without inducing stresses into the electrically conductive material and provides low-risk machining solutions for complex components and parts with previous machining already completed. Typically, this technology is used to machine metals that are difficult to work with via other machining methods.
Machining For Stainless Steel and Additional Metals & Materials
With 10 CNC machines in-house, we have the capability to machine and customize components from a variety of metals and materials. We can typically produce tolerances from +/- 0.001" to +/- 0.0005" depending on the width of the material used. RDL Machine can work with various exotic or hard-to-machine metals upon customer request. Frequently machined materials include:
Stainless steel
Copper
Nickel
Aluminum
Titanium
Plastics
Brass alloys
Machining For Various Industries
We have experience creating single-item, mission-critical parts and large quantities of machined components that require CNC repeatability to meet fast turnaround times. Some industries served include:
Medical
Oil and Gas
Aerospace
Automotive
Job Shops
Programming Metal Fabrication Software
Here at RDL Machine, we employ state-of-the-art computer programming software to design your projects precisely and efficiently:
Solidworks is utilized for drawing complex 3D customer designs
Solidworks Inspection is used for inspection report documentation
Mastercam software is utilized for programming our 4th and 5th axis projects
Why Choose RDL Machine For CNC Machining Services
As an industry-leading machine shop of over 20 years, RDL Machine has the experience needed to provide quality and cost-effective machining for virtually any requirement. Our ISO 90001 certified processes ensure precision, efficiency and customer satisfaction is achieved in a timely manner. We use CMM measuring technology to produce accurate, high-quality components that can't be matched by our competitors.
Our highly skilled programmers and machinists collaborate to combine elements of mechanical design, blueprints, and mathematics to yield products that meet precise specifications. By taking a component from design to completion, we can monitor the quality of a part at various stages for improved quality and reduced turnaround times. We also employ state-of-the-art computer programming software such as Solidworks and Master cam to quickly create complex custom components based on your exact designs. Furthermore, we offer secondary services to further customize or finalize your project.
Contact RDL Machine Inc.
Contact our knowledgeable staff for all of your custom machining needs today and let us get to work on your next machining project.