Contact Us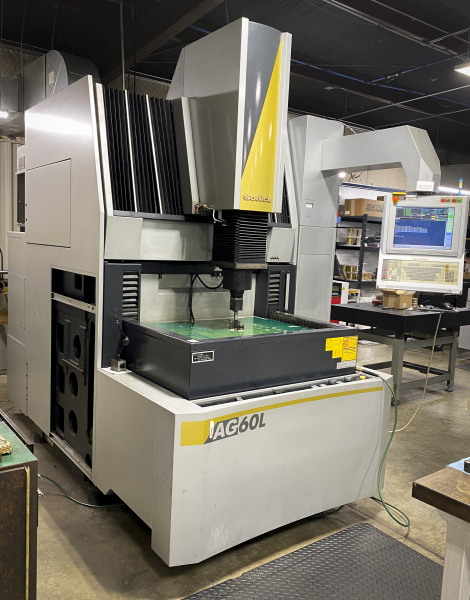 Sinker EDM Services
Electrical Discharge Machining Capabilities
Sinker EDM utilizes a series of EDM pulses between a custom tool-electrode and a workpiece to create a desired shape without damaging or stressing the workpiece. RDL Machine Inc specializes in CNC Sinker EDM (Electrical Discharge Machining), and can provide low-risk machining solutions for complex components and parts with previous machining already completed.
We have experience machining assemblies, subassemblies and large quantities of metal components. As an ISO 9001:2015 and AS9100D certified manufacturer of precision, mission-critical metal parts, we understand the imperative for quality and performance in every product we create. Our skilled machinists can create complex components and high-volume parts under fast turnaround times.
Learn more about our Sinker EDM Services below, Contact us for more information or Request a quote and let us get started on your next fabrication project.
Sinker EDM Benefits
Sinker EDM offers the ability to machine shapes without inducing stresses into the electrically conductive material and provides. This non-contact machining process is ideal when looking to minimize machining risk and achieve reliable components. Using a Sinker EDM allows you to machine any material as long as the material is conductive. Additional benefits include:
Produce Complex Shapes
Unparalleled Accuracy
Minimal Mechanical Stress on the Workpiece
High Processing Speed
Minimized Material Loss
Sinker EDM Capabilities
We utilize the Sodick AG6oL series EDM sinker featuring linear drive technology and simplified control mechanisms. This provides a direct link between the drive and the control to ensure the fastest servo response and optimal spark gaps. Additional features include but are not limited to:
Linear motor (X/Y/Z axis)
Absolute Linear scale (X/Y/Z axis)
Ceramic components
Linear motor cooling unit
Dielectric fluid cooling unit
Sinker EDM for Multiple Industries Industry
Sinker EDM is typically used to create holes or cavities in a conductive component. The holes that are created have complex shapes that couldn't be manufactured by traditional CNC milling processes. This machining process is incredibly accurate and requires only simple tooling, making it ideal for industries requiring reliable, mission-critical components. Frequent industries served include Aerospace, Medical, Power Generation and more.
Sinker EDM Applications
Our machinists can create components from soft or hard materials such as titanium, tungsten, carbide, Inconel, aluminum, copper, brass and more. We have experience creating Molds, Die Sets, Tool and Die parts and other components for low and high-volume projects. Sinker EDM can customize components for a variety of applications, including:
Blind Cavities
Thin Walls
Fine Finishes
Sharp Corners
Machining Threads & More
Blind Keyways
Internal Splines, Squares or Hexes
Why Choose RDL Machine For Sinker EDM Services
As an industry-leading machine shop of over 20 years, RDL Machine has the experience needed to provide quality and cost-effective machining for virtually any requirement. Our ISO 90001 certified processes, CMM measuring technology and extensive quality assurance procedures ensure we produce custom, accurate, high-quality components that can't be matched by our competitors. Our 4-axis machining capabilities, 5-axis machining capabilities and innovative programming software allow us to design your projects precisely and efficiently.
Contact RDL Machine Inc.
Contact our knowledgeable staff for all of your custom machining needs today and let us get to work on your next machining project.